EmployeeTrackSM Structure
Access multiple individual, joint, trust and IRA employee accounts
for the purpose of monitoring their trading activity.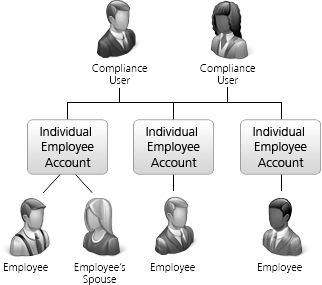 Account Information
EmployeeTrackSM provides a simple, cost-effective solution for organizations such as exchanges, hedge funds, mutual funds, brokers, banks, insurance companies, law firms, accounting firms and consulting firms who are required to monitor their employees' trading activity.
Note: Once you sign up for EmployeeTrackSM, you will no longer receive employee statements by email.
Accounts are accepted from citizens or residents of all countries except citizens or residents of those countries or regions that are on the sanction list of the US Office of Foreign Asset Controls or similar lists, or other countries determined to be higher risk. Click here for a list of available countries.
Additional Documentation
EmployeeTrack Management PDF Guide

EmployeeTrack Brochure PDF
Employee Marketing Handout
IB provides a customized handout for your employees with information about IB's broker services. This customized handout will be created upon registration. Click the button below for a generic sample of this document.